A baby's crying is very distressing to parents. It is not known why babies sometimes cry for long periods without being easily comforted. However, babies vary in the amount and intensity of crying in their first year.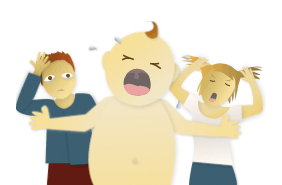 Parents are often told to trust their intuition in recognising differences in their baby's cries and to decide what these mean. However, it is actually very difficult to identify different cries and most parents assume that the baby is either hungry or in pain.
Parents often don't know what to do to quieten and soothe their baby and can lose confidence very quickly.
Here are some things to remember: