Voices on the blog
Topics
Stages
Our Blog Team
Discover our free app
5 months in...
By Melissa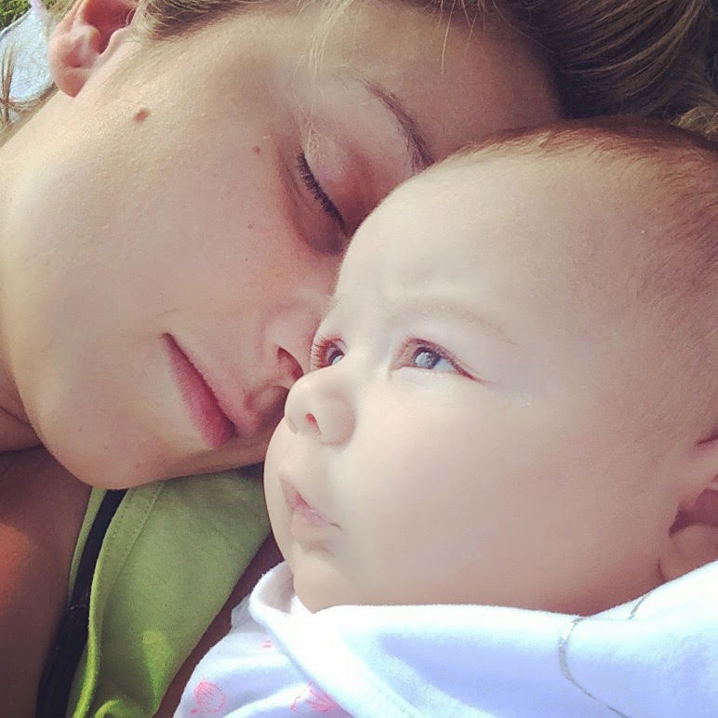 I have felt so many emotions over the past five months. My life is completely different. I want it to feel the same but it will never be again and why? It's because of my beautiful baby girl Lily. My life previously was all about me. Not really sure what I did, I think I watched a lot of TV, had a lot of brunch and endlessly scrolled Facebook. I vaguely remember complaining about how busy work was, the unrelenting deadlines and pressures of everyday life. I was so exhausted with my eight hours of sleep a night that it was imperative that I got my weekly massage. We even had yearly holidays to recover from our crazy busy lives. Aahh what a life, what a simple, spontaneous, un-layered life that was allaboutme.com.
In January the most incredible thing happened. What I'd been praying and hoping for, for many many years happened. My baby girl came into the world and for that moment all was still, my life was complete and I held my Lily for the first time. This little stranger I had grown and carried was in my arms. My lazy brunches, crazy working regime and my all about me mentality was gone. The only issue was, surprisingly, I didn't know this was coming. I knew it would be hard but I didn't realise the impact on me. Lily has made me question everything that I am, everything I hope to be and the mother I need to be.
After the initial shock of those first few weeks watching Lily adapt to this new world, realising breastfeeding hurts and of course the all-consuming lack of sleep, my whole life was about feeding, burping, peeing, pooing, sleeping, not sleeping and hitting repeat on an hourly basis. The first six weeks were unforgiving, not even a smile from my baby to thank me for all my efforts, motherhood seemed to suck most of the time. I was lonely, tired, frustrated and scared all at once! I'm used to getting recognised for my efforts, no such recognition for the hardest job I've ever had, no trial period or training course to prepare me.
As for me, I've had a million business ideas and was optimistic that now was the time to reinvent myself, I was "home" after all! Thought I could start a blog on new beginnings or finally get those entrepreneurial ideas off the ground. Maybe I could even do that writing course or tick that water colour painting art class off my bucket list, I also decided I will attend university and finally get my degree. Wow, I'm tired thinking of it all! I need to see the world, learn new things and feel I have lived my years on earth having achieved everything I truly set my mind to. Only one problem, right now I'm f*cking exhausted. The kind of exhaustion that leaves you nauseous, brain drained and immobilised.
That's the problem you see, i have come to the realisation that no longer is my life allaboutme.com. It's allaboutlily.com and that's ok. Writing this, I can see that right now there is no order, no master plan. My life, right now, is to protect and nurture my daughter and be in the moment. Give her all of me until she is ready to begin to let go. I am OK, the crying has stopped (me crying, not Lily, that continues!) and I am at peace with my new life. The grieving of my old life has melted away and I am happy, I smile at my daughter and she smiles back. She really does love me and I am her world. Well daddy and I are her world and right now, that's all I need.
Expert response from What Were We Thinking! expert, Sue Doogan
Melissa, Melissa, Melissa what can I say? Can I bottle up your sentiments and emotions and recommend every parent-to-be or new parent read your succinct (and often highly accurate) description of life with a new baby! You have managed to capture what many parents feel but often can't express or don't want to express for various reasons.
The key message to me is actually saying you're ok! It is not all "sunshine and roses" with all the new challenges and changes, but, you are at peace and that is wonderful! This is the starting point of your journey to parenting with all its twists and turns and ups and downs. No matter what your life was like B.C (before children) it will never be the same, ever, ever, again. But, this is nothing to be frightened of. Yes, undoubtedly there will be times when you think "what were we thinking" but there will equally be times when you can't wipe the smile off your face!
Learning to navigate the path of parenting will allow you the opportunity to experience weird and wonderful sights, smells! , wonderments etc. that you would never of had the pleasure (and maybe some pain) of experiencing otherwise. Learning or realising with reflection how capable you, your body, your partner are when dealing with the needs and demands that a new little person brings – nothing can prepare you for this. And, it'snotallaboutyou.com! No amount of googling, reading, university degrees, asking friends or family (solicited advice or otherwise) can really describe what life with a new baby is like. You need to experience it. But, it does get better! Think of this little person you are moulding to potentially have similar morals, ethics, values as you. Someone who looks up to you to nurture and guide them through life's varying joys and obstacles.
Granted, some people can experience a little more upheaval than others but ultimately if your expectations and "grieving for your old life" are realistic then it will all fall into place and what's more you will revel in it and realise just how strong and capable you are as a parent and, as an individual. And, there are many supports and evidence based research principles "out there" for you if things aren't quite falling into place. You just need to ask for help.
Really, it's all part of creating new bucket lists – one as a family unit, another as empty nesters and so on and so on.
PS: Melissa, I think you've found your new writing career path!
Posted in: A new reality Your needs