For Parents
"About Babies" Worksheets
"About Mothers and Fathers" Worksheets
For Professionals
This site complies with the HONcode standard for trustworthy health information:
verify here.

Information, resources and reassurance for new parents navigating the highs and lows of life with a baby
The birth of a first baby is one of the biggest life transitions an adult will experience. Major life changes are always accompanied by mixed feelings and most parents feel under-equipped for the tasks of infant care and managing a household with a baby.
This website contains information about common experiences in the early months of parenthood and some effective ways of thinking about and managing them.
All information on this website is drawn from up-to-date research and the experiences of many parents of new babies. We hope that you find the site helpful as you learn to live with your first baby.
Discover our free app!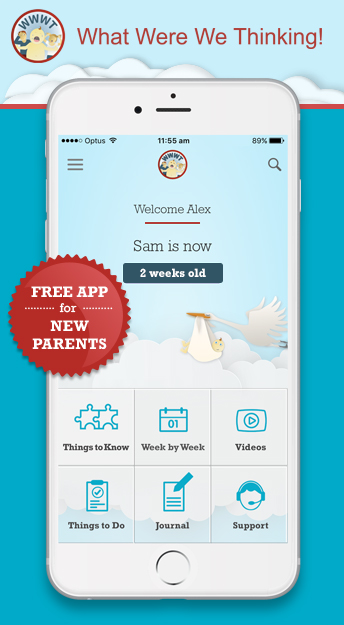 www.whatwerewethinking.org.au content was developed with funding from the Australian Government and the Jack Brockhoff Foundation. The authors have sole responsibility for the content of the website.
The site content is provided for your information; if you have comments you are welcome to submit them to:
This site is not a substitute for advice from your family doctor or another health professional.
If you feel sad, worried, or irritable most of the time, then it is important to talk to your family doctor.
The above text last updated 14 May 2020.
Who would have thought a teething child causes more sleepless nights than a newborn. Well this is my life right now.,,
Being a celebrity does not automatically make you a health professional or a parenting expert! An increasing number of There is a growing (and quite frightening) trend of celebrities are offering health advice that is based on personal experience or opinion, but is not informed by research evidence...
For all the joy having a baby brought, for first-time mum Rochana there was also all manner of pain. But she found help was there when she needed it.