Voices on the blog
Topics
Stages
Our Blog Team
Discover our free app
How to foster great relationships with grandparents
By Jane Barry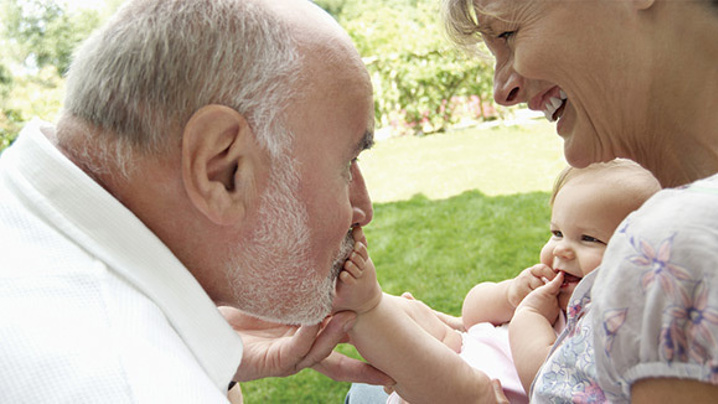 As parents, most of us are a little guilty of thinking that the influence we have on our children is all powerful. And of course it's important – it needs to be. But children are generally born into existing families, with extended family and relatives. They too have their own unique and influential role on our children.
There has been lots of research lately into the particular importance of grandparents in children's lives. Not just in terms of supporting parents with practical care, but the unique relationships which grandparents and children can have.
What's so good about grandparents anyway?
They help to guarantee the continuation of a family's lineage. From a survival perspective, this is how families have shared their genetic inheritances for more than 200,000 years.
When there is chaos and disruption in the family home, grandparents can provide stability and security.
Grandparents often have more time and energy than parents because of the parents' work commitments.
Grandparents can be very nurturing and patient, especially when they are motivated to have a good relationship with their grandchildren.
They are often more financially stable and secure. This means they can have extra money to spend on entertainment and taking the kids out (but not always).
They often have more patience, as well as the benefits of experience and wisdom which are only earned through time.
What helps build the grandparent-grandchild connection?
Be motivated to support them having a good relationship. When, how and where your kids connect with their grandparent/s will depend on you. Transport, organisation and just the general mechanics of getting them together takes adults to work out. So if you're keen from the start, then everything else will follow.
Get your partner on side to support this as well. If drop offs and picks ups are shared, then you're more likely to sustain for longer the energy required.
Be optimistic about the benefits. If you believe that both the kids and the grandparents will benefit then you're more likely to be supportive.
Remember that individual personalities play a big role in how we connect with each other. You may find that one of your children just 'clicks' with a particular grandparent and there's really no explanation as to why.
Give it time. Good relationships can take years to grow. Raising a family is a marathon, not a sprint, so try not to do too much too soon.
What to do ...
Encourage your child's grandparents to be involved, right from your pregnancy. Tell them you're keen for their input into your child's life.
Where possible, take their advice on board. If they have successfully raised their own children they will have some idea of what's involved, even if their ideas on parenting are different to your own.
Accept all reasonable offers of childminding and support. The more time spent together between children and grandparents, the more opportunity for love to grow.
Encourage traditions and routines which just happen at grandma/pa's house.
If location is an issue, consider longer stays during school holidays and long weekends. You may need to be creative about making the most of opportunities.
Consider Skype, FaceTime and all forms of digital communication if physical proximity is an issue.
If your kids are school age, get them to coach their grandparents in technical ways to connect.
Encourage shared passions such as gardening, board games, sports, history, reading or music. One of the many great things about the next generation is that they often have different interests to parents.
If relevant, support your children's grandparents to share their money saving tips. Again, the next generation has often learned the benefits of delayed gratification – a useful skill for any age group.
What not to do ...
Avoid comparisons with different family members, in particular the other 'set' of grandparents. Every person and family is unique. Comparing, while tempting, can be very hurtful.
Don't play favourites. Where possible, arrange equal time with both sets of grandparents, otherwise resentment and jealousy can build.
Don't expect grandparents to fund outings unless they offer to. Be mindful that income, time, health and motivation all play a part.
Don't expect automatic offers of childminding from grandparents. They are entitled to make their own decisions about how they spend their time, so be aware of not asking too much, too often.
Don't be controlling about how you want grandparents to care for, talk to or relate to the children. Of course you should have a say in matters of safety and general care but be prepared for some differences between care-giving styles. This helps kids to build resilience.
Try not to examine and discuss every little detail. As long as everyone is happy then just go with the flow. There may be some traditions in your partner's family which you'll never understand. Just put them down to every family being unique.
Don't criticise grandparents when children are present.
Never encourage conflict, backstabbing and nastiness.
Try not to be unrealistic. There's no such thing as a perfect family and most have some sort of dysfunction. Some families are just better at hiding theirs than others.
Don't assume that if your parents weren't too interested in you as a child that they will feel the same about your children. Different circumstances and times can have a very different impact on behaviour
Suggestions for grandparents to connect with grandchildren
Play games, read, go for walks. Aim to have fun and laughter.
Remember, you aren't the parent; be considerate and know when to say nothing.
Listen to them when they talk.
Let them lead the way.
Invest time.
Ask about their friends.
Remember what you talked about last time.
Write letters/cards.
Be their Facebook friend, if they'll let you.
Get them a pet (check with parents first).
Cook together.
Make photo books together and show them photos of you when you were younger.
Teach them skills like painting, restoring furniture – do projects together.
With younger children – go for walks, feed the ducks, go to the museum/art gallery
Have them for sleepovers.
Let your grandchildren take the lead. Sometimes it's enough just to 'be there'.
Jane Barry brings to the WWWT blog almost 30 years experience in the areas of general, paediatric and child health nursing. She is a member of AHPRA, The Queensland Writer's Centre, The Australasian Medical Writer's Association, Health Writer Hub and Australian College of Children & Young People's Nurses and is the director of www.mybabybaby.com.au. This piece was originally published on Kidspot.
. Originally published on Kidspot, for other pieces written
Posted in: Baby 21-26 weeks Grandparents Growth and development Health Professionals Parenting Experts