Voices on the blog
Topics
Stages
Our Blog Team
Discover our free app
Learning to go with the flow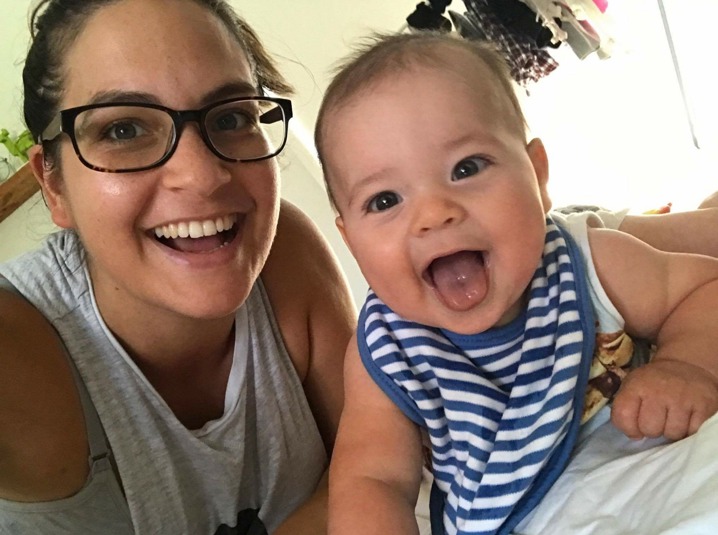 I had always wanted to be a mother – it was really the only thing in my life I was sure of.
At the time of planning a family with my partner, I felt confident in my abilities to be a good mum. But now, nine months after my son's birth, I believe nothing can prepare you for the overwhelming rollercoaster ride that is parenthood!
My son Thomas Wolf was born on 2 October 2016, a healthy 3.8kg babe. My labour was surprisingly long, tiring and took me almost to breaking point. But holding Thomas for the first time, whoa! Completely unreal, everything else in my life just melted away, and I felt complete with my family.
That first day in hospital, even though I was seriously exhausted, I was in this surreal, dreamy, pink bubble; feeling very proud and showing off my new son to all our visitors. He really was perfect.
Day two was when reality set in. Every muscle in my body felt sore from all the pushing, I was shocked by the amount of blood that continued to leave my body, and I was so weak I could I barely get myself out of bed. My milk had already started to come in, which meant my breasts were full and sore, and breastfeeding was proving harder than I expected. But holding Thomas, and watching him as he slept next to me, there were no words to describe how much love I felt for him already.
When we came home from hospital, the pain when I tried feeding was so bad that I couldn't do it. My partner raced over to the supermarket to buy formula, and I just sat on the couch with my three-day-old baby and cried, because I felt like I had already failed him.
I was disappointed – and worried about what everyone else in our families would say when we told them. But watching Thomas drink up that formula and seeing him satisfied, that was all that really mattered.
There are constantly so many decisions that have to be made for this tiny human. It's very easy to start worrying, to doubt yourself, and stress about what other people might think. But at the end of the day, it's your baby, and every child is different; it's up to the parents to decide what is best.
A midwife from our hospital ended up visiting our house the next morning, and had to use an electric pump, along with firm massaging to relieve the pressure and soften my breasts. She explained that my breasts had become severally engorged because the body continues to produce milk even if it's not being used. I had no idea! I literally looked like Pamela Anderson, and not in a good way.
The weeks to come weren't easy, I went from using nipple guards, with hot and cold compresses at every two-hour feed, to having blocked milk ducts. I remember curling with pain at each feed. Honestly, I found the whole thing overwhelming, tiring and painful, and it brought me tears on many occasions. All I had heard while I was pregnant was how breastfeeding was a magical bonding process for mother and baby – I wasn't feeling it!
My motivation was to keep Thomas happy and healthy, so I continued, and thankfully it did get much easier for us both. I strongly believe now that there is absolutely no shame in asking for help; we are fortunate we have so many outlets for help these days. I visited my local breastfeeding consultant, for peace of mind that I was trying all the right things.
When Thomas was four months old, I had to start working two days a week, as the government payments stopped, and well, we needed to pay our mortgage. So, when Thomas went to his grandparents I would have expressed milk, so he had food for the day. The hand pump my mother had bought me was a total godsend! Halfway through my shifts at work, I would need to express in the bathroom and freeze the milk so I would be comfortable enough to finish my shift, and have food for Thomas when I wasn't with him.
At about five months, I started introducing some solids into Thomas's diet – pureed pears and apples mostly. I had a handful of people criticise me for using commercially-made baby food, and at first it did get to me, and I started making my own. But these days he has a mix of both, and he's very healthy and happy.
Thomas is nine months now, and I have started to wean him from breast milk to a soy formula. As we have chosen to bring him up with a wholefood diet, he has an abundance of fresh vegetables, fruits, grains and legumes. What more could you ask for?!
I want other mothers to know that you should believe in yourself. You're never alone, because there is so much support out there for us.
We put so much pressure on ourselves, and of course for good reason – this is the next generation we're raising – but I think it's important and healthy to trust yourself, and listen to your child. If your baby is happy, chubby and loved; then you're doing good!
Posted in: A new reality Baby 0-4 weeks Baby 5-8 weeks Growth and development Mums