Voices on the blog
Topics
Stages
Our Blog Team
Discover our free app
Visiting hours - tales from the tired trenches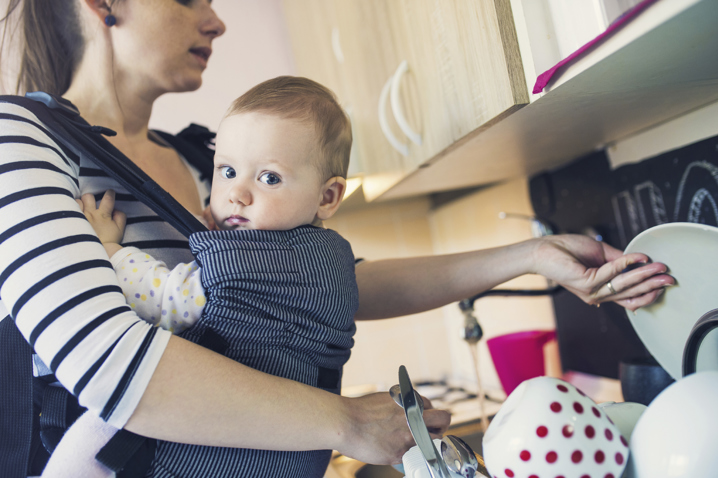 I've just watched a couple of dear friends bring their precious new baby home. Annie was born six weeks premature, so it's been an anxious and tiring time for everyone. But after three weeks of hospital care, and gaining weight to reach a (comparatively) robust 2kg, last week little Annie was finally allowed to come home.
How is she doing now? Absolutely wonderfully. Eating, peeing, pooing, making all those funny little snuffly, whimpery noises. Much like her poor mum and dad.
The practicalities involved in caring for a tiny human can be mind-blowing. For me, it's now a few years since my son was a newborn, so my enduring memories are vague. But watching my friends Kerrie and Bob go through it themselves for the first time brings one particular memory roaring back to my mind. It's the six months I spent eating with one hand.
My son was never a napper. Just would NOT sleep, unless he was being pushed in a pram or rocked in the crook of an arm. This meant my time-poor diet consisted of anything I could prepare and eat with one hand, which could be shoved down my gob in the shortest possible time. Praise be, toast and biscuits! I may have starved otherwise.
And this is why my other enduring memory of those nutrition-starved times was the other godsend – friends who brought food. I swear, my stomach rumbled the Hallelujah Chorus if a friend called in with some foil-wrapped package that promised so much more than what I could usually wrangle. I still remember Clare's lasagne. Annmarie's still-warm apple slice. Jo's mild chicken curry. Mmmm.
But you know what? It wasn't the young childless couples who brought these care packages – it was the mums who were already parents themselves, usually with far less free time than the child-free visitors. Because they knew – they'd lived it themselves. They got it.
And now the same thing is unfolding with many of Kerrie and Bob's childless friends. Because Annie is still so tiny, everyone's in a mad rush to meet her while she's still so doll-like. So they come to visit, maybe with a six-pack or bottle of bubbles, and they stay. And stay. And stay. And ooh and aah over Annie as Kerrie and Bob (or just Kerrie solo if Bob's at work) entertain them and feed them. Then the visitors, having gotten their fill of snacks, new baby smell and bub-cuddling selfies to post on Insty, shuffle off to enjoy the rest of their child-free day/night/weekend, while the exhausted parent(s) clean up after them and prepare for the next wave of visitors.
It was Kerrie sending me a text apologising for not replying to one of mine from a week prior – asking if she and Bob liked the soup I'd dropped in and if so, I'd bring more – that alerted me to this state of affairs.
Sorry, she said, but she'd just been too flat out, tired and overwhelmed by visitors – all the while trying to be a new mum – to reply to me. It was then I realised that, although they mean well, some friends still just don't get it.
I remembered the friends who visited me as a new mum, who not only brought food to save me from my toast and bickies diet, but who said (and did) truly wonderful things like:
"I'll make the tea, you sit!"
"Don't you touch those dishes, I'm doing them."
"Want me to bring that washing in/hang that washing out?"
"Why don't you have a nap for an hour, I'll look after bub."
"Want me to nip up to the supermarket for you?"
I'm almost misty-eyed just thinking about it all. Because it's true; being a new parent is one of the most wonderful experiences, but also one of the hardest jobs you'll ever have. That's why the memories of those friends, who helped to make it not-so hard, still endure so fondly.
So, dear new parents, if you're reading this story through red-rimmed eyes (if you've even had the time to read it, for that matter!) and it's ringing a bell or two, feel free to share this story with your friends. The good friends won't take offence – they'll hopefully take a tip or two. And, with a bit of luck, they might even take you around a care package. And a pair of hands not only eager to cuddle, but to help.
Posted in: A new reality Baby 0-4 weeks Baby 5-8 weeks Baby 9-12 weeks Mums Your needs