Voices on the blog
Topics
Stages
Our Blog Team
Discover our free app
Evelyn's first swim!
By Juliet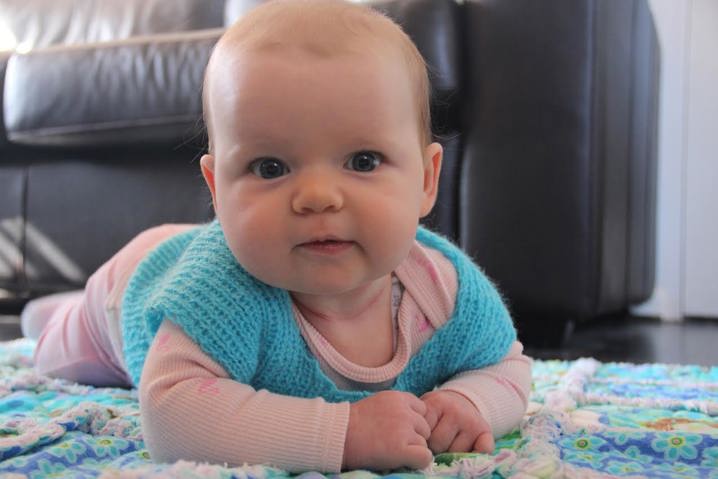 I took Evelyn to the pool for the first time this week. She loved it. It is a swimming pool that is for kids lessons and they do a baby play session for 3month + bubs. There is an instructor in the pool who is there just to show us parents how to hold our babies and tips to get them used to the water. Given we have family in Queensland we have been quite keen for her to get used to the water from an early age and she took to it like a duck to water!
She even had a brilliant long sleep after the pool in her pram. So long, in fact, I was able to stop off at a hairdressing salon on the way home and get my haircut…first time I've had it trimmed since I was about 12 weeks pregnant…oops! It was bliss. Evelyn woke up towards the end of the cut and she was pretty happy to sit on my lap entertaining herself by smiling at herself in the mirror.
Expert response from What Were We Thinking! expert, Ann O'Doherty
Babies and toddlers are so fascinated by water and living in Australia where we are surrounded by it and where so many of our play and social outings include proximity to it makes your plan for making Evelyn safe around water a great idea and vital for her safety and confidence around water as she grows.
Getting used to water and learning how to swim can be so much fun though. Babies are amazing learners from the minute they are born and each time we smile, cuddle, speak, sing and play with them stimulates the development of new learning connections in their brain. As parents you are literally growing your baby's brain through all the loving care and experiences you provide.
Even having a bath can help with babies sleep so time spent in a pool playing and learning takes a lot of concentration and physical effort and will often result in good sleeps afterwards even in older babies and children..bonus! Especially when it helps you take a little well earned time to do something for yourself.
Posted in: Baby 13-16 weeks Every baby is different Growth and development